Reclaimed Teak Tile- Perfect For The Shower
Taking a clients vision and turning into reality are not the easiest tasks for any designer. Adding teak tile into the shower is one of those tasks. `Most people don't know how to elaborate their idea, needs and wants into a clear vision, much less something that is actually possible. But in todays world where unique blending of modern and casual concepts cross pollenate in most every aspect of design, nothing seems impossible any more.
Location:
Todays young designers rise to each challenge with fresh perspectives and a hustle to get it done, no matter what the obstacle. Such is the case with a wonderful designer from Virgina. Quintece Hill-Mattauzek of Studio Q Designs recently tackled a stunning bathroom project that caught our attention.
Her clients approached her with the concept to remodel their master bath and shower area. "They need help pulling together "HIS" and "HER" design aesthetics," says Quintece.  "They wanted an Industrial Chic, Modern Rustic, SPA!" Excited to meet this fun and exciting challenge, Quintece soon remembered some reclaimed teak product she saw when she was on a research trip to Milan, Italy.
While she couldn't find that exact material here in the States, she soon found Indoteak Design online and instantly fell in love with the reclaimed teak tiles. "I paired his modern sensibilities and her causal elegance to create a master bath design that fit them both.  I used a combination of antique brass metal, black iron and rustic wood finishes to achieve the look."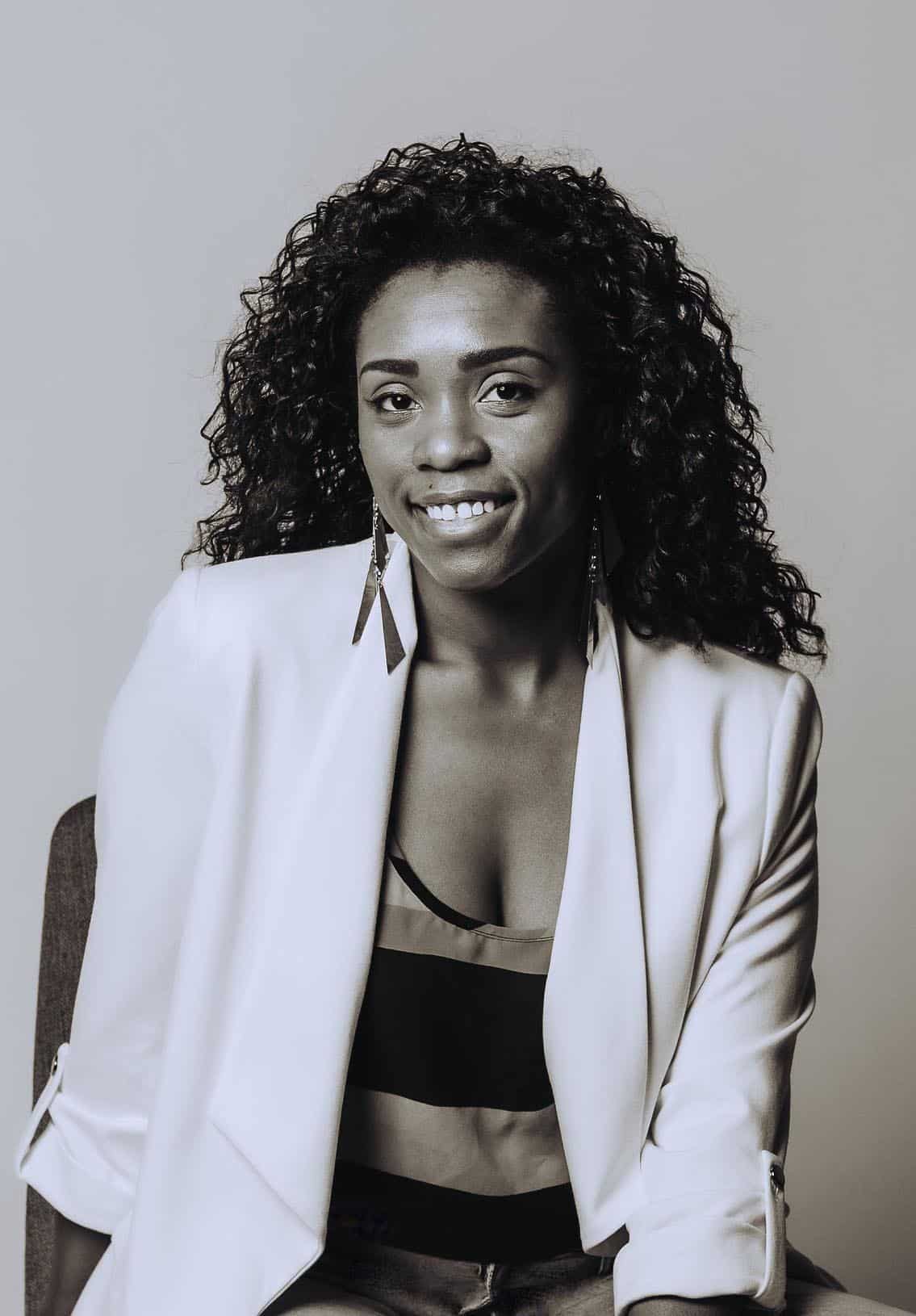 "The Indoteak Design "FRANK" wood tile was the perfect blend of modern styling with a rustic finish.  The idea that the tile was reclaimed teak made the application even more special.  The moment I showed the product to my clients, they fell in love as quickly as I did. "
-Quintece Hill-Mattauszek, Principal Designer- Studio Q Designs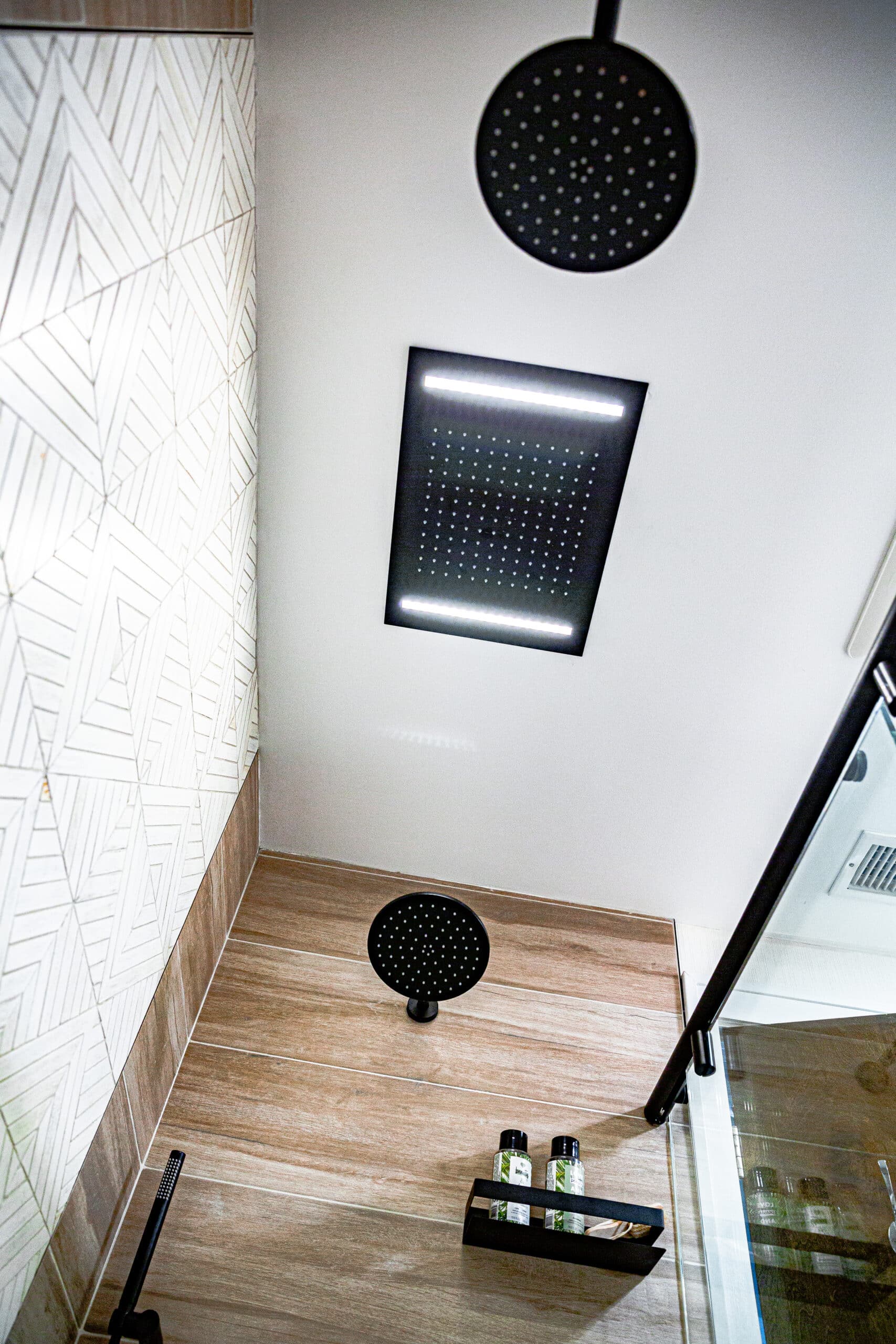 ABOUT STUDIO Q DESIGNS:
Studio Q's detail oriented approach to design is always client-focused with an emphasis on guiding people toward making better design decisions. Our firm understands that great design starts with great relationships. This includes an emphasis on the ability to listen to what's being said and to recognize the unspoken.
950 N Washington St, Alexandria, VA 22314
Instagram: @thatsyourqdesign
ABOUT INDOTEAK:
Owner Frank Ragen fell in love with reclaimed teak when he was building his dream home in 2010. Upon learning how difficult it was to procure the wood he wanted, he went to Bali to find a reputable source. Soon, Frank learned about the work and craftsmanship that went into the reclaimed teak wood, often going to the factories to see how it was made. It was in those factories where Frank met the people who worked tirelessly to produce the beautiful flooring and tiles that would make his home something special… something unique. As the build continued, Frank soon found himself on a new path, and that path would eventually become IndoTeak Design.
Today IndoTeak Design takes pride in offering the finest quality, rare reclaimed teak wood, all the while providing a one-of-a-kind service that not only sources the precious wood, but processes, finishes (in both Indonesia and the U.S.) and ships direct to consumers worldwide
OUR RECLAIMED TEAK:
Many of the worlds most beloved woodlands are diminishing at an alarming rate as the result of deforestation and non-sustainable logging. One of the the major culprits in this crisis is improper or, in some cases, non-existent systems of recycling. At Indoteak Design, we are committed to providing the highest quality products while also striving to cause no harm to the environment. By properly utilizing 100% teak salvaged from Indonesia, our production works as a zero-waste process. This means no trees are cut down as a result of our work. Instead, our wood is salvaged from 100-300 year-old structures that were slated for demolition or the landfill. This rare, beautiful wood, aged by time and the elements, is then refined without any VOC or leeching glues, ensuring the safety for your family or business.
ABOUT CINTA TILE:
The word "Cinta" in Indonesian means "love" – the perfect word to describe how we feel about this amazing line of tiles. This collaboration between Erin Adams & IndoTeak Design is a fresh and groundbreaking tile and mosaic collection that fuses the freshness of contemporary design with the rich timelessness of 100% reclaimed teak. Our versatile Frank pattern is dynamic to say the least. It comes in a gorgeous matte finish or a high-gloss resin that is perfect for bathrooms, showers, back-splash or any shower, spa or wet-use areas, indoors or out. Our Cinta teak tiles go beautifully in all environments. Custom colors are available upon request. All tiles are recycled, hand-crafted and completely green and sustainable.