DXV 2018 Designer Laura Muller
When IndoTeak Design was asked to be involved with one of the five people selected for the 2018 DXV Design Panel, we were delighted. Tasked with creating a special custom herringbone floor for Laura Muller and her design project, we were told she chose us because of our 100% reclaimed teak flooring not only for its recycled, earth friendly construction but also for its durability and soothing characteristics. The soothing and healing nature of teak lent itself perfectly to her clean, balanced design which plays on natural lighting and soothing tones.
Designs were approved and we soon created 1100 Sq. Ft. of our FSC 100% reclaimed teak engineered flooring in a gorgeous herringbone pattern with a custom drift finish. The peaceful color blends perfectly with Muller playing of natural lighting and shadows throughout the day and evening. With the project being a bathroom, the flooring had to be able to stand up to wetness and moisture, a task our reclaimed teak is extremely good at handling.
---
"It was an honor and privilege working with the Indoteak Design team! We most definitely could not have  realized this 

dream-

space without YOU and your willingness to achieve excellence!"
-Laura Muller, 2018 DXV Design Panelist
---
Our engineered flooring is created of three layers: Top wear layer is single faced reclaimed teak, the middle layer is a finger joint, cross grain teak substrate and the bottom is yet another layer of our recycled teak. This unique construction creates a product that moves together to expand and contract, and since all layers are teak, it stand up to water and moisture without warping or breaking. Its perfect for indoor outdoor use and clients have used it for all kinds of projects, including soffits, ceilings, fences, decking, wall cladding and yes, even as it was built for: flooring.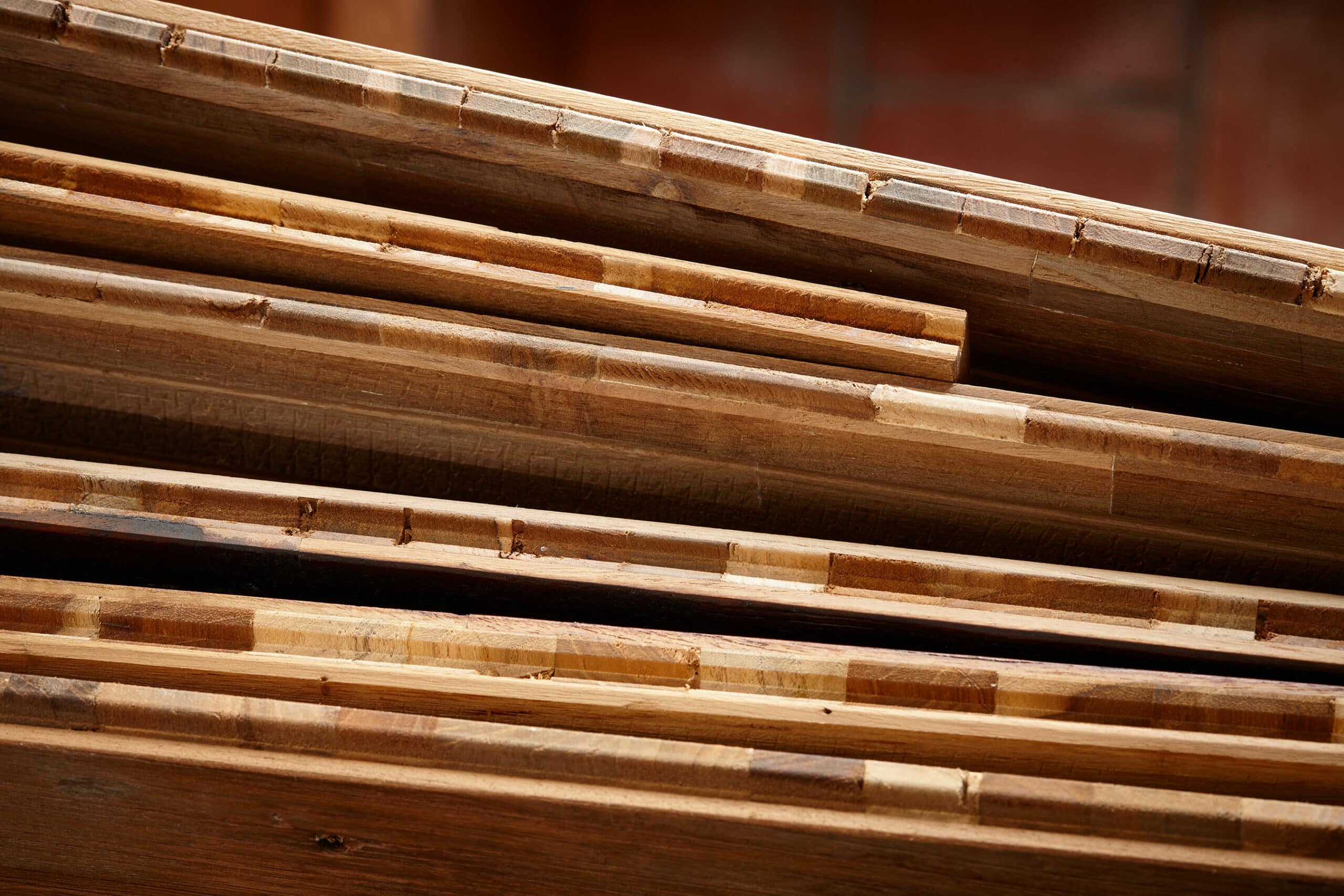 Laura describes the project:
"Inspired by 21st Century black & white architectural/interior photography, we created a healing space where light and shadow could dance throughout the day and night to reveal stunning shapes and shadows. With retractable clear skylights and frame-less windows that slice through strong architectural planes, a seemingly static white space becomes a dramatic yet serene hypnotic playground; igniting a new relationship with the sun and moon each day by harnessing their energy and color story. Seamlessly installed earthy toned teak reclaimed plank floors provide a durable grounded flow from bath to shower to lounge. The juxtaposition of vertical and horizontal layers of neutral lines, bold shapes and organic materials, inspires a relaxing, exciting, restorative daily destination.
Muller designed her space with peace and serenity in mind, creating an artfully crafted space that allows natural lighting to move gracefully throughout the day from morning  to twilight and eventually into the calming to moonbeams that dance on the walls.  When asked about the why our flooring stood out from the rest, she said, "The major cornerstone of the room comes from the Reclaimed teak flooring—beautiful, sustainable and ideal for wet rooms—unites this shadow-shifting room."
"Black-and-white photography inspired the palette, but I wanted to create a black-and-white space that wasn't cold, " said Muller. "There's a lot of freedom in contemporary because we're writing our own story as we're in it. We're creating our contemporary right now."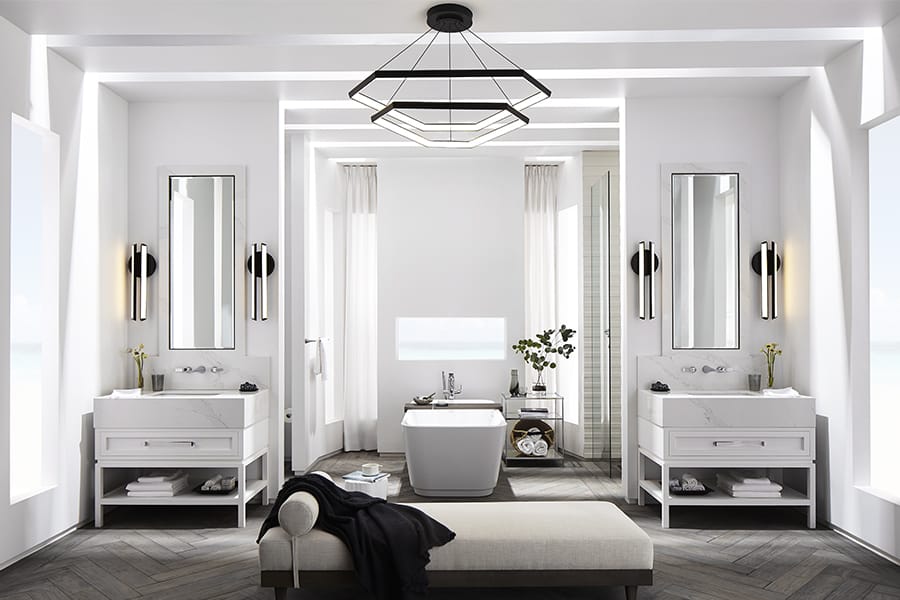 ---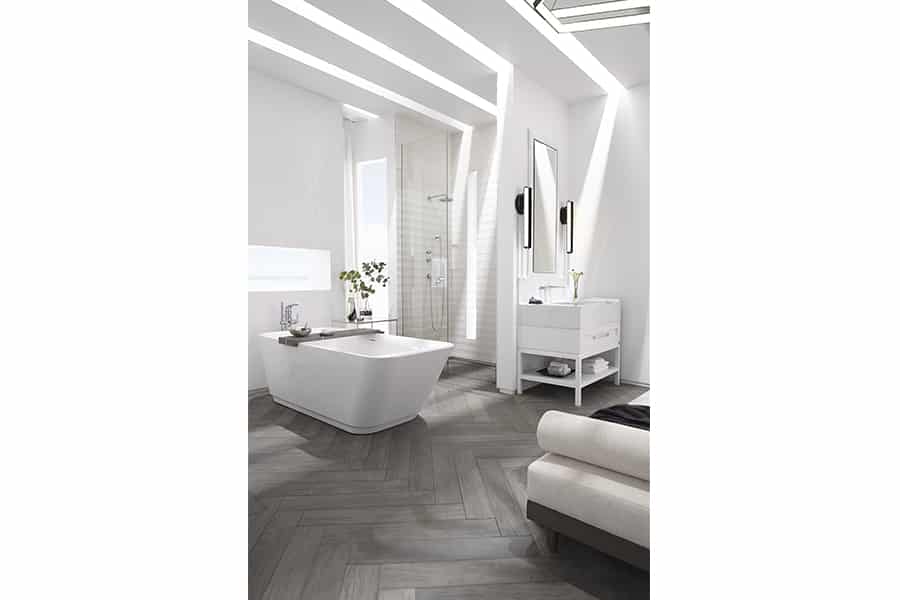 ---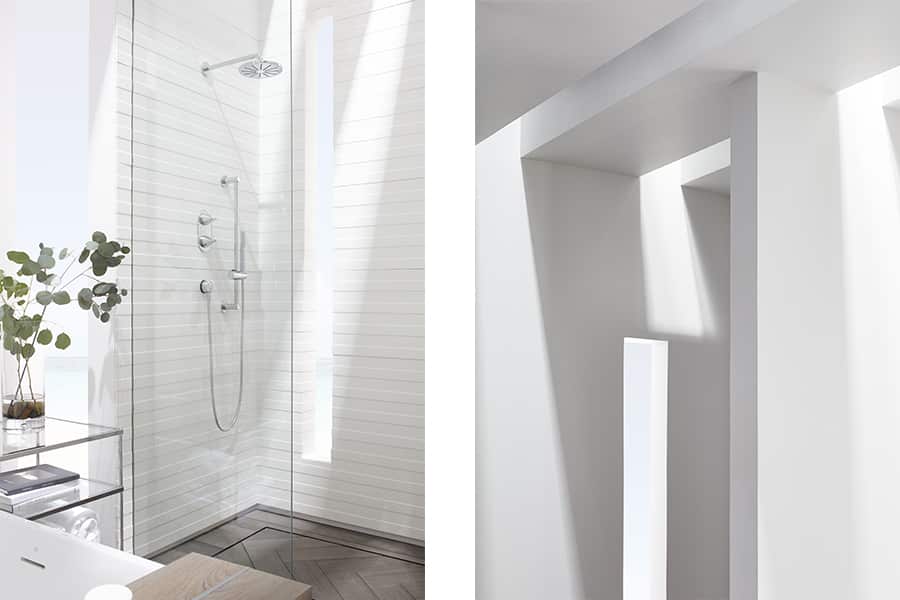 ---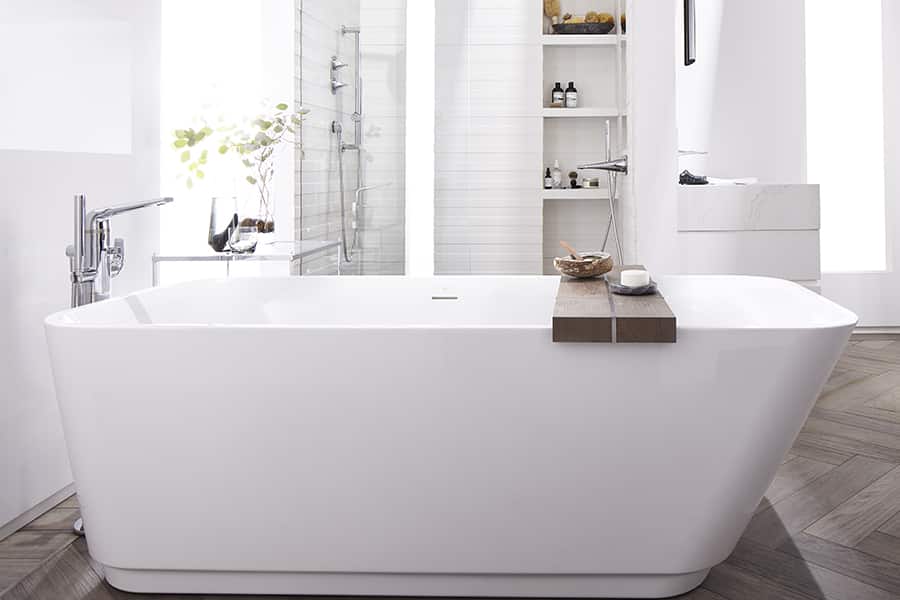 ---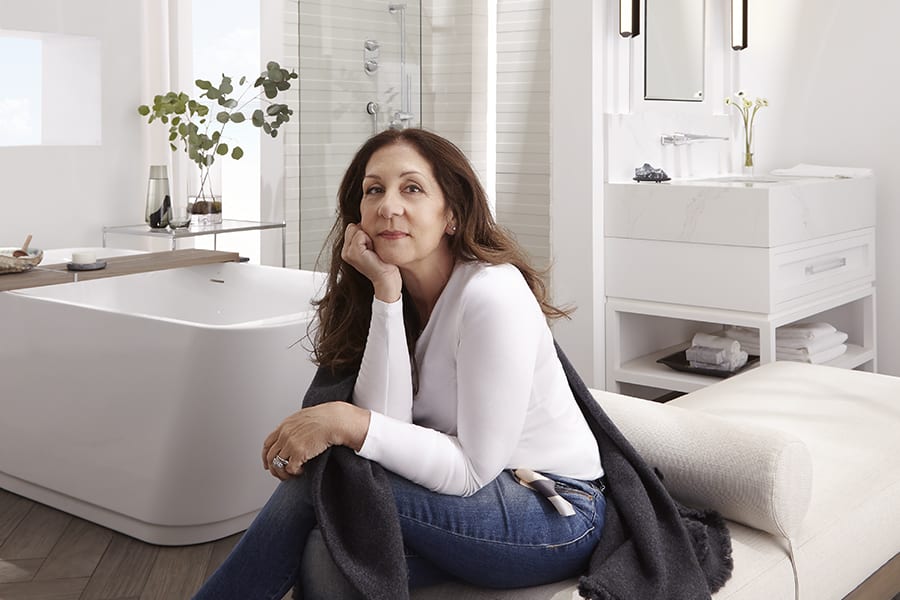 ---
To see more about Lauras Project for DXV :
Designed by Laura Muller @4ptDesignBuild
Website: Four Point Design Build
More about DXV:
#DXVdesignpanel
#WorldofDXV
Instagram: @DXVluxury