WORLD SURF LEAGUE and INDOTEAK DESIGN
The Pipeline Masters is one of the worlds greatest events. Some call it the Super Bowl of Surfing. The event takes place at the world famous Banzai Pipeline on Oahu's North Shore. The venue is a modern day gladiator pit with arguably the heaviest wave on the planet breaking  just meters from the safety of the warm Hawaiian sand. It's a spectacle unlike any other.
So when Indoteak Design had the opportunity to create a new set for the World Surf League (the governing body that runs the world professional surf tour) we jumped at the chance. Besides being a bunch of old surfers ourselves, we love seeing how the WSL has turned the surf tour into one of the most exciting sports to watch. Around the globe each event draws millions of viewers and has grown the sport exponentially in the past 5-years.
With that information, we knew the WSL was looking to make a statement in 2020 after taking almost a full year off due to Covid 19 suspending all surfing events since March. We jumped on a call with their executive team and listened to their needs and how they really love the story of our brand and how we only use 100% FSC reclaimed teak because of the environmental benefits and the sustainable story of our brand. The alignment of our ethos was a major factor in pursuing the partnership.
The Indoteak Design Set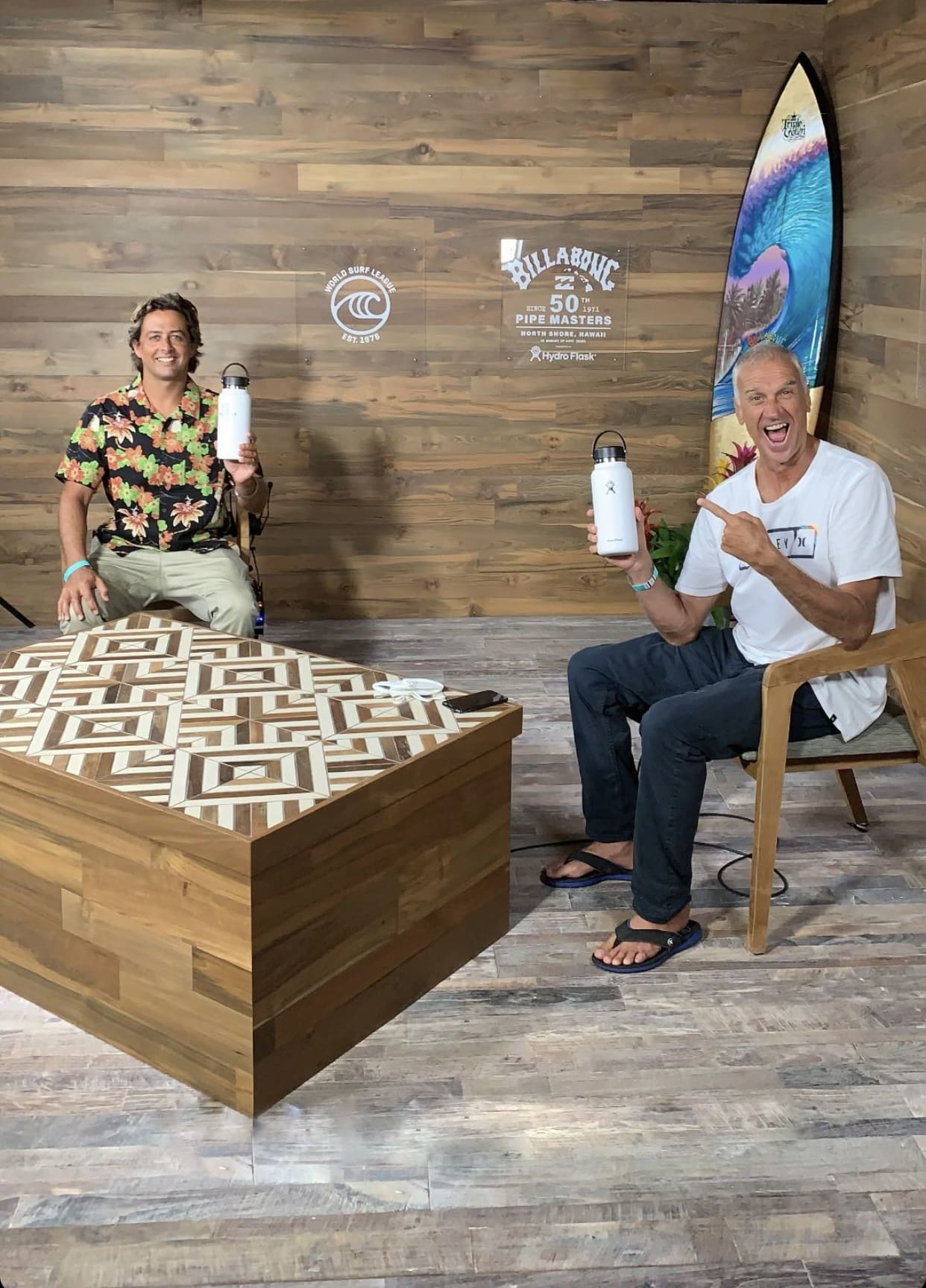 Within 10 short days we built two beautiful sets; one bound for the Island of Maui for the Maui Pro presented by Roxy and one for the Billabong Pipeline Masters Presented by Hydroflask. The sets featured our stunning patina flooring in a Donavon finish as well as our smooth wall cladding in the sand smooth finish. To top it off, we added a stunning coffee table topped with a custom finished "Frank" tile from our Cinta tile collection. The final results on film were nothing short of gorgeous.
We want to thank the World Surf League for their commitment to a better planet by using sustainable brands like ourselves and Hydroflask. Every decision we make in regards to the planet should involve some thought and effort into making it a better place for all humanity and creatures alike. We look forward to working with them on some future events in 2021.
If you are looking for a unique set for pop up events, studio work or any other project, please give us a call to go over the possibilities!
Indoteak Design