Reclaimed Teak from Indoteak Design Highlights Modern La Jolla Home
Recently, San Diego Home and Garden Magazine(May 2017) featured a home that was a perfect blend of contemporary/rustic with a nod towards recycled green material. Since Indoteak Design's engineered reclaimed teak flooring is certified 100% reclaimed teak. The owners, real estate agent Susan Botticelli and her fiance, contractor Monte Mattson, decided to incorporate reclaimed teak flooring into the master bedroom.
The beach inspired 1960s-era home was redesigned by architect Scot Frontis, who accepted the challenge to take the traditional home and turn it into something modern. As the walls came down, the three-tier roof line of the home was about to become something unique in a neighborhood of equivalence.
"We wanted some complexity in the roof, not just a plain old roof," said Frontis. "We landed on simple forms, yet they define the interior spaces." With that, they decided to increase the living space from 1,600 to 2,650 sq. ft. With an eye on creativity and an "Outside the box" attitude, Monte and and Susan stood by their vision and watched the property develop. To Read the whole article follow the hyperlink HERE.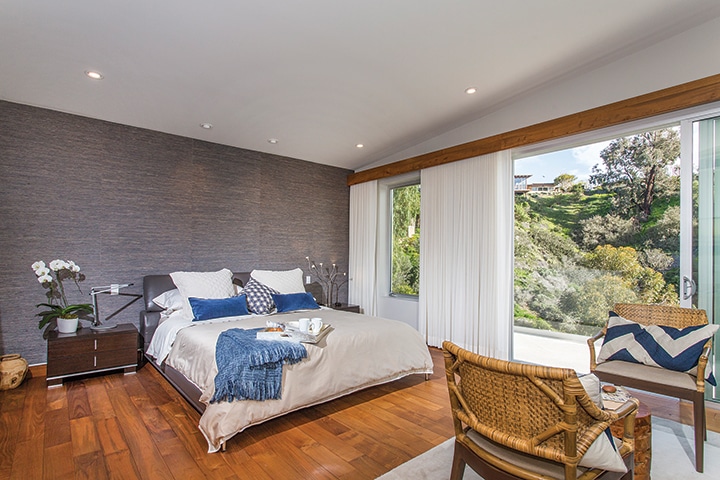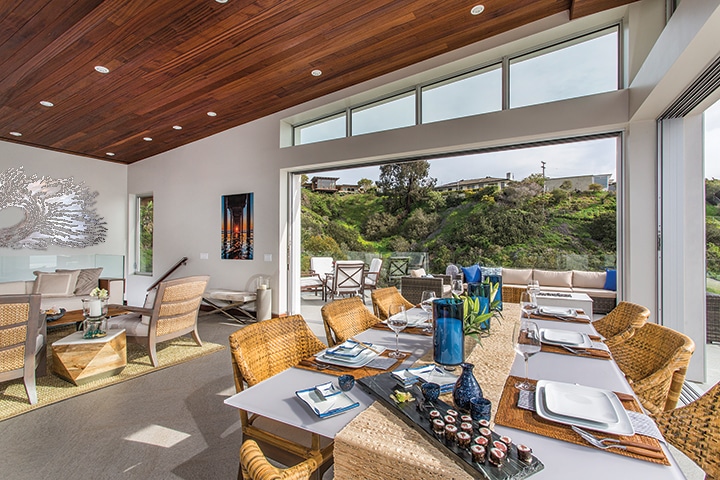 Indoteak Design Master Craftsman Omar Hernandez helped organize the products for this build and had this to say about the project. "The key to the products used in this build was the interaction I had with Susan when she came into our showroom to discuss the project," said Hernandez. "We discussed the concept and as I heard her needs and assessed the pain points, I was able to help guide her into materials that fit her needs even though the application was different than what the products were was originally created for."
One product in particular was the Indoteak Design reclaimed teak decking. Originally made for outdoor pool areas and patios, this product was the perfect solution for areas that require water resistant material that is durable and long lasting. In the case for this project, they decided to use the decking in the master bathroom for the flooring of the bathroom and the shower area. Only after speaking with Hernandez did this option present itself as the perfect solution for the clients needs.
When asked what clients can do to better educate themselves on Indoteak products, Hernandez says,"Ask questions and use our extensive product knowledge to your advantage. We've spent years learning everything their is to know about our reclaimed teak and how it wears. We can help you tailor your project and needs to exactly the right product your build calls for."
Custom Home features:
Double-sided fireplace in the entry/living room
patio fire pit
Views of the Pacific
soffit solid reclaimed teak Ship Lap
Solid reclaimed teak decking in bathroom
Signature stonework includes a schist called Cosmos.
Flamed-finish, black granite counter tops
Mahogany veneer cabinetry
Reclaimed Teak Engineered Flooring
privacy glass insets of the entry door and interior doors
Schluter-edged base-boards
Illuminated teak steps of a central, glass-sided stairway
Poured-in-place concrete walkway
House-side fountain
Black lava rock modern-tropical theme
Wider hallways and lofty ceilings
Entryway table made from the root of a massive teak tree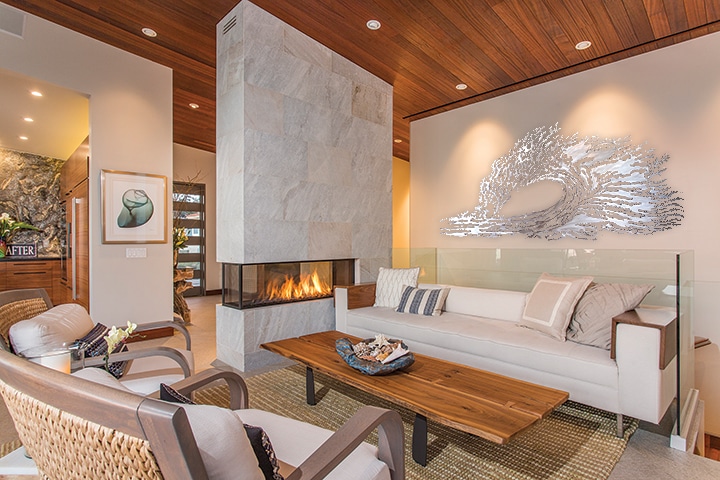 Indoteak Design Products used in this project:
Reclaimed Engineered Flooring – Smooth Cognac
Solid reclaimed teak soffit
Solid reclaimed decking
To learn more about these products, please contact or Client Relations specialist Jon Hernandez