THE ORIGINAL RECLAIMED TEAK TILE: CINTA
This first-of-its-kind reclaimed teak tile is the perfect addition to any indoor or outdoor space. With ease of installation, it's perfect for bathrooms, kitchens, back-splash, entryways or any wet-environment like saunas, pool areas and gyms. Reclaimed teak has a very unique & luxurious feel. It's the perfect addition for any home, business or hospitality project. All tiles are available in custom colors.

ORGINS
When we Introduced our new Cinta™ Collection in 2014, we knew that we were onto something special. Created by designer Erin Adams, Cinta™ is a groundbreaking tile and mosaic collection that fuses the freshness of contemporary design with the rich timelessness of 100% reclaimed teak.
The richness of color, the strength of the seasoned grainy wood, and the story of its soulful past, all blend together to create a truly unique and special offering to our clients. The name "Cinta" was selected for a few different reasons. First, in Indonesian, the word means "love"—the perfect word to describe how we feel about this new line.
But a fun insider twist: it also features the names of the owner and his family for each tile selection: Amy, Emma, Tommy, Taylor and Frank.
USES
These simple, hand crafted tiles are timeless whether you're walking on a 1900's home powder room floor or eating on a 21st century bar, Cinta Teak Tiles are never out of place and will always be in style. Try them in neutral, single colors or create your own color blend for an attention grabbing alternative. These weatherproof, durable tiles have been created by using 100% reclaimed Teak Wood from boards as old as 200 years from the jungles of Indonesia.
The uses for this amazing tile seem to be endless. From backsplashes, accent walls, kitchens, floors, yoga rooms and even the entire exterior of a flagship office in Alaska! These tiles can be installed the same way that any tile can be, but offer a warm and appeal that stands out above all others.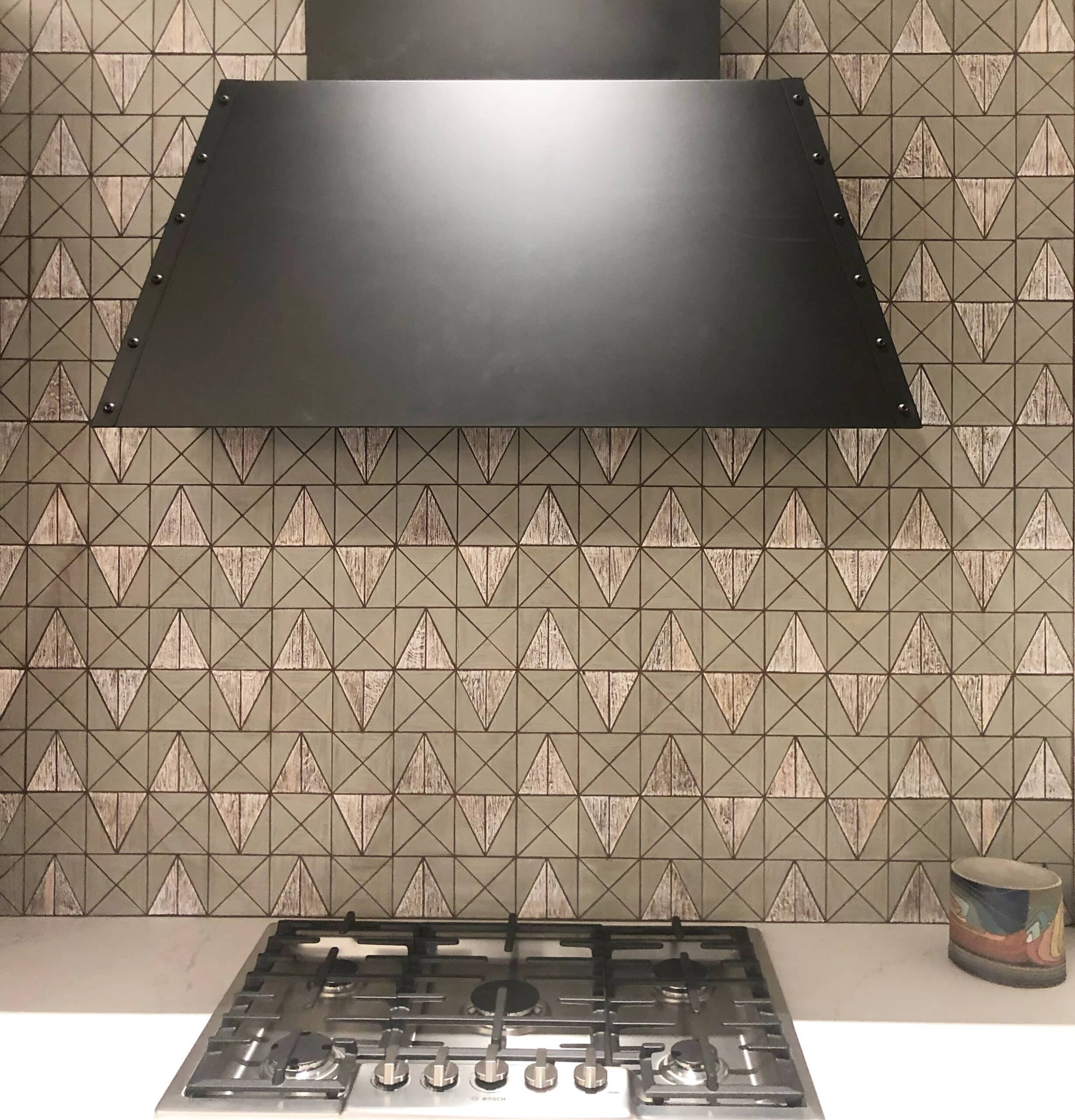 INSTALLATION
ACCLIMATION: When teak tile has arrived at location of installation, reclaimed teak tile should be allowed to acclimate on location for 4-5 days prior to installation.
SUBSTRATE: This reclaimed teak tile should then be installed on a clean, sound, flat substrate. All substrate material must be dry, clean, and flat.
GROUT: Epoxy grout is our recommended choice for our reclaimed teak tiles. Due to the moisture in the adhesive during installation, our teak tiles may warp if traditional water mix adhesives are used. Please only use Epoxy based grout (floors) & epoxy adhesive(walls)
PRIOR TO GROUTING: Prior to grouting joints, after the setting adhesives is completely dry the following day. It is not recommended to set our teak tile and grout in same day. If set and grouted in same day, our teak tiles will not have a chance to acclimate during the drying process of the setting material and this may crack the grouted joints.
GROUTING: Test grout on a sample piece of tile to ensure that color and appearance is as desired. During application, when sponging the grout off of the tile surface, a soft bristle brush is helpful to remove grout from the seams in the wood surface. If the grout is allowed to fully dry in the surface seams, it can be very difficult to remove. Our teak tile does not have to be sealed after grouting, as urethane grout does not require sealing.
CLEANING/ MAINTENANCE: CINTA™ wood tile may be regularly cleaned using, a gentle water based cleaner. (Example: BONA CLEANER) Do NOT use strong cleaners and strippers.