Celebrity Chefs & Indoteak Design
The phenomena of celebrity chefs and binge worthy TV shows has been popular for over two decades now. Shows like Iron Chef helped rebuild interest in culinary cuisine and that spilled over into dozens of other shows, concepts and brick-and-morter restaurants across the globe. Our reclaimed teak flooring, teak tiles, custom tables and siding are a top choice for restaurants, not only because of its stunning beauty, but because of its incredible resistance to water. Restaurants get incredible amounts of foot-traffic, resulting in high wear and tear. Our amazing wood is hundreds of years old and has been proven to be long lasting as well as unique and stunning to look at. The level of performance stretches out the investment of the client all while adding an intrinsic quality to the decor that cannot be duplicated.
Here is a list of celebrity Chefs who have chosen Indoteak Design products for their own restaurants.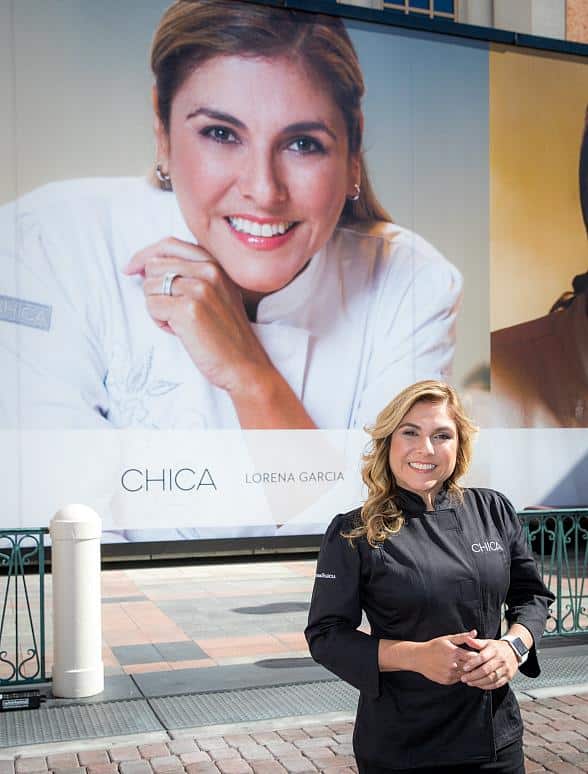 Garcia has appeared on Top Chef Masters, NBC's-America's Next Great Restaurant and many more programs, not only as a contestant but as a judge or investor for budding chefs and contestants. Garcia also saw obesity as a growing problem and wanted to do something about it. She created "Big Chef, Little Chef", in an effort to help end the problem of childhood obesity. "Big Chef, Little Chef" is a non-profit organization that aims to encourage healthy eating starting at a young age. The foods Garcia develops for "Big Chef, Little Chef" are Hispanic foods.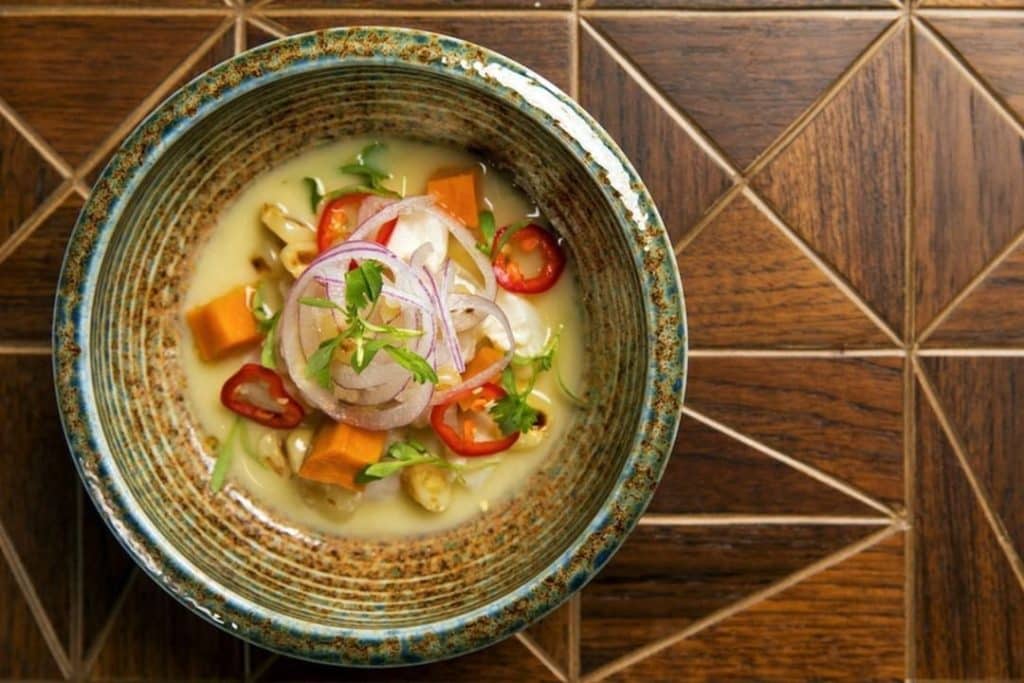 In May of 2017, Garcia opened her own restaurant in Las Vegas. CHICA is housed within the Venetian Hotel and features a dynamic menu based on healthy recipes from throughout South America. Garcia is the first female-Latin chef to be featured on the strip. The decor of the restaurant is bright and colorful and features Indoteak Design's "Amy" Cinta Tile on all the restaurant tables.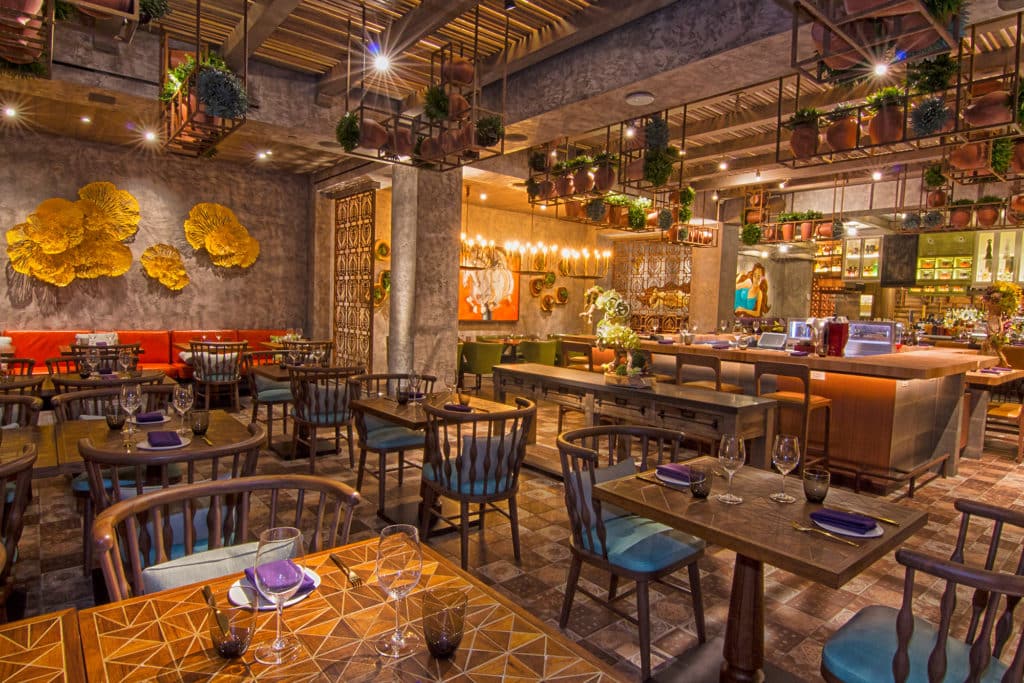 Featured Material:
100% Reclaimed teak "AMY" tile from our Cinta Line.
---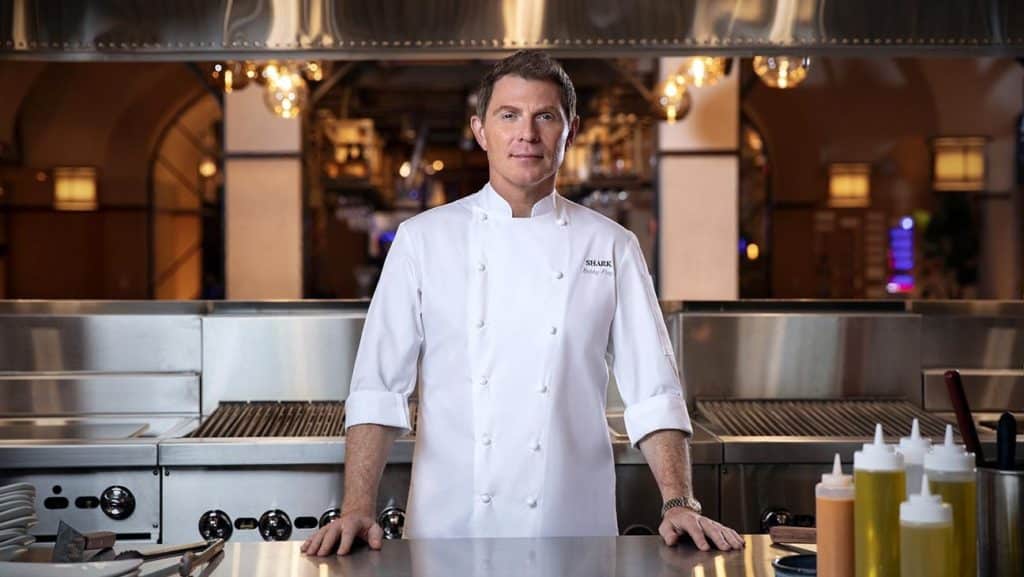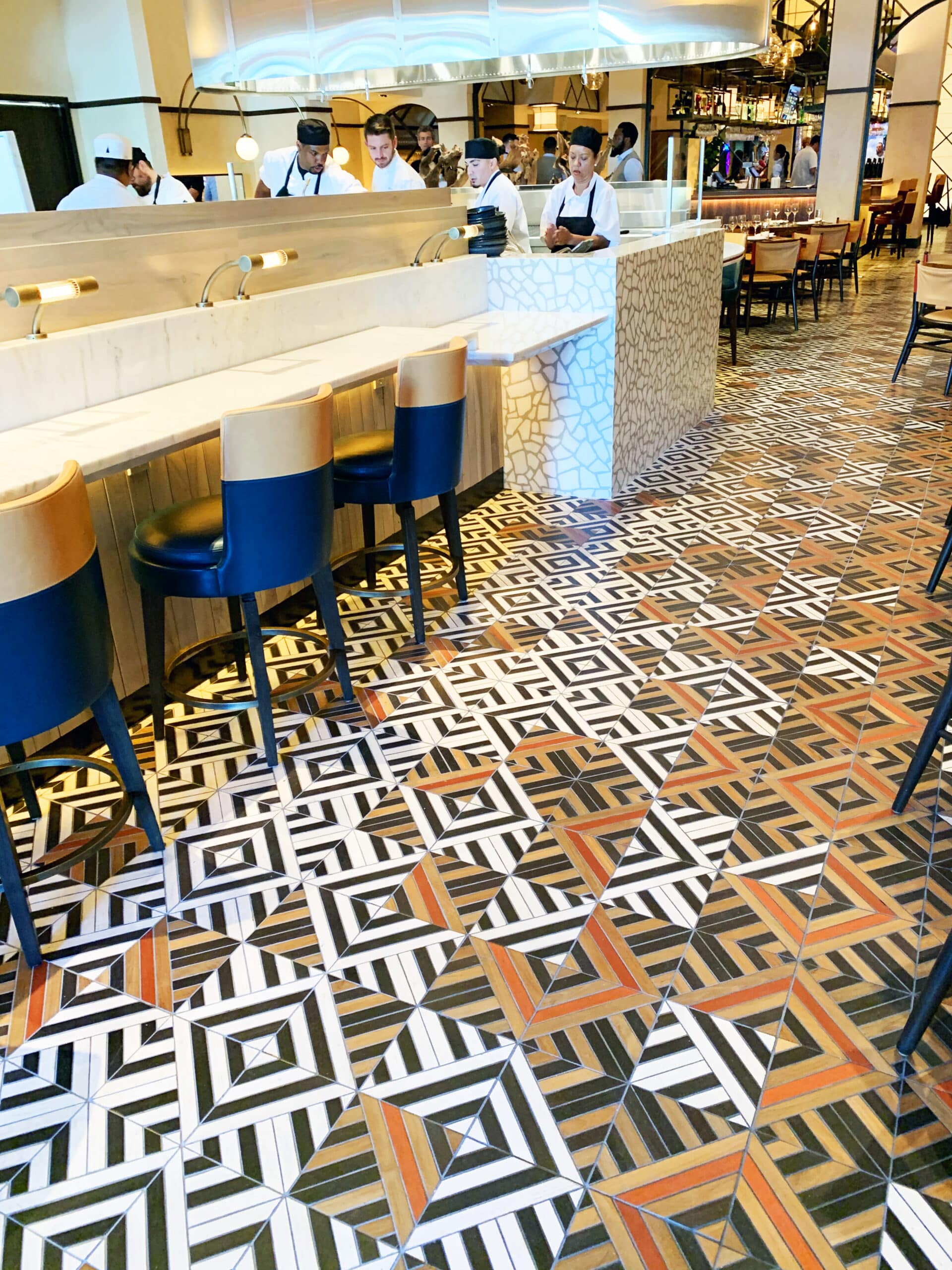 Perhaps the most widely known of all the celebrity chefs, Bobby Flay has dominated the landscape of television cooking shows. Heres the shortlist:
Hot Off the Grill with Bobby Flay
Grillin' & Chillin'
Food Nation
3 Days to Open with Bobby Flay
Boy Meets Grill
BBQ with Bobby Flay
Throwdown! with Bobby Flay
Grill It! with Bobby Flay
Bobby Flay's Barbecue Addiction
The Best Thing I Ever Ate
Brunch @ Bobby's
Worst Cooks in America
The Main Ingredient with Bobby Flay
Bobby's Dinner Battle
Beat Bobby Flay
Great Chefs – Great Cities
Mexican Madness DVD
Great Chefs Cook American
Throw down With Bobby Flay
Iron Chef
Beat Bobby Flay
Bobby's Vegas Gamble
Restaurant Revamp
Chefography: Bobby Flay
Tasting Ireland
Food Network Awards
All-Star Grill Fest: South Beach
Besides the TV shows, flay has authored over 12 books and owns and operates six restaurants across the USA.
In his latest endeavor, Flay opened SHARK in Las Vegas in April 2019. Rave reviews have followed, not only about the eclectic dishes but also because of the stunning decor. The Rockwell Group and Flay worked closely on the design and used Indoteak Design "Frank" tile from our Cinta line. The custom finished pattern is unlike anything we have created before and is a cornerstone of the restaurants vibe
---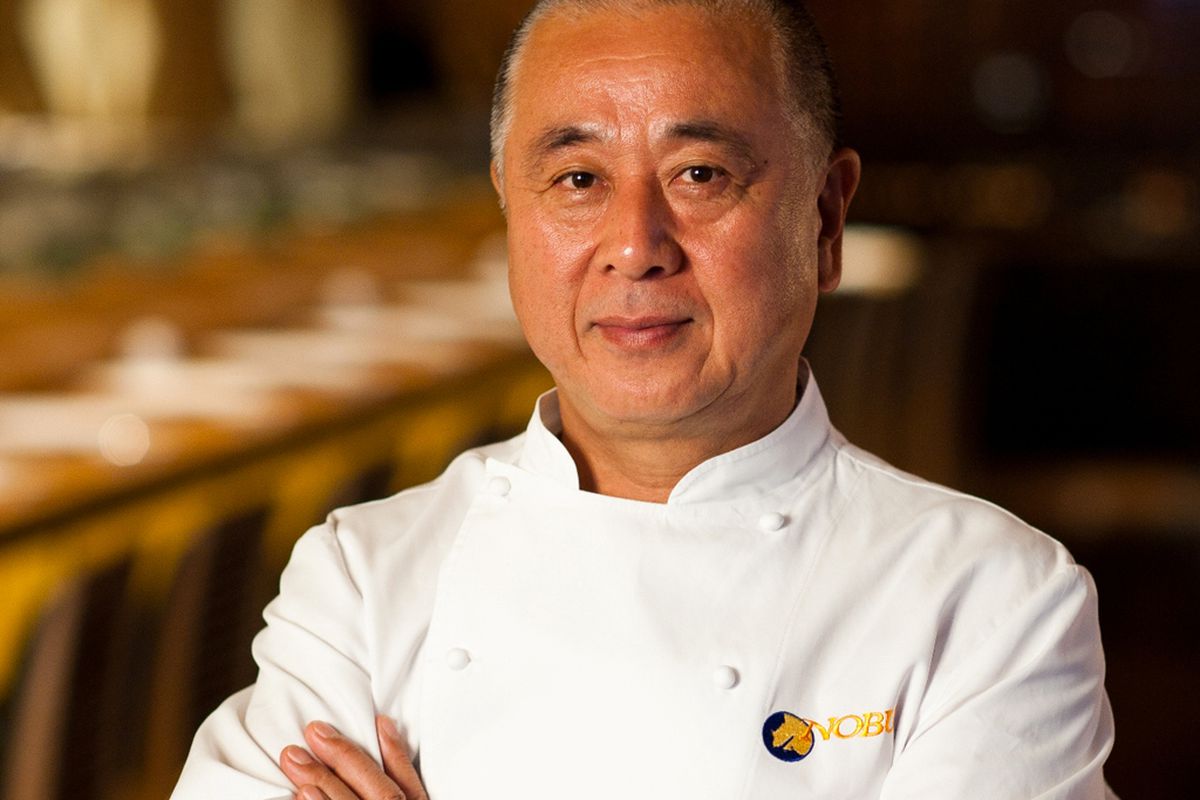 The word Nobu strikes up images of the worlds finest and high end dining experience in New York and Los Angeles. After years of serving the worlds elite, Chef Nobu started another restaurant group titled "Matsuhisa." With multiple locations around the globe, Matsuhisa brings the culinary variety of the master chef to the masses.
Still very upscale, the Matsuhisa brand combines stunning interior design with their exquisite menu. Throughout nearly 25 years, Nobu has become an international brand synonymous with sophistication, simplicity, and elegance.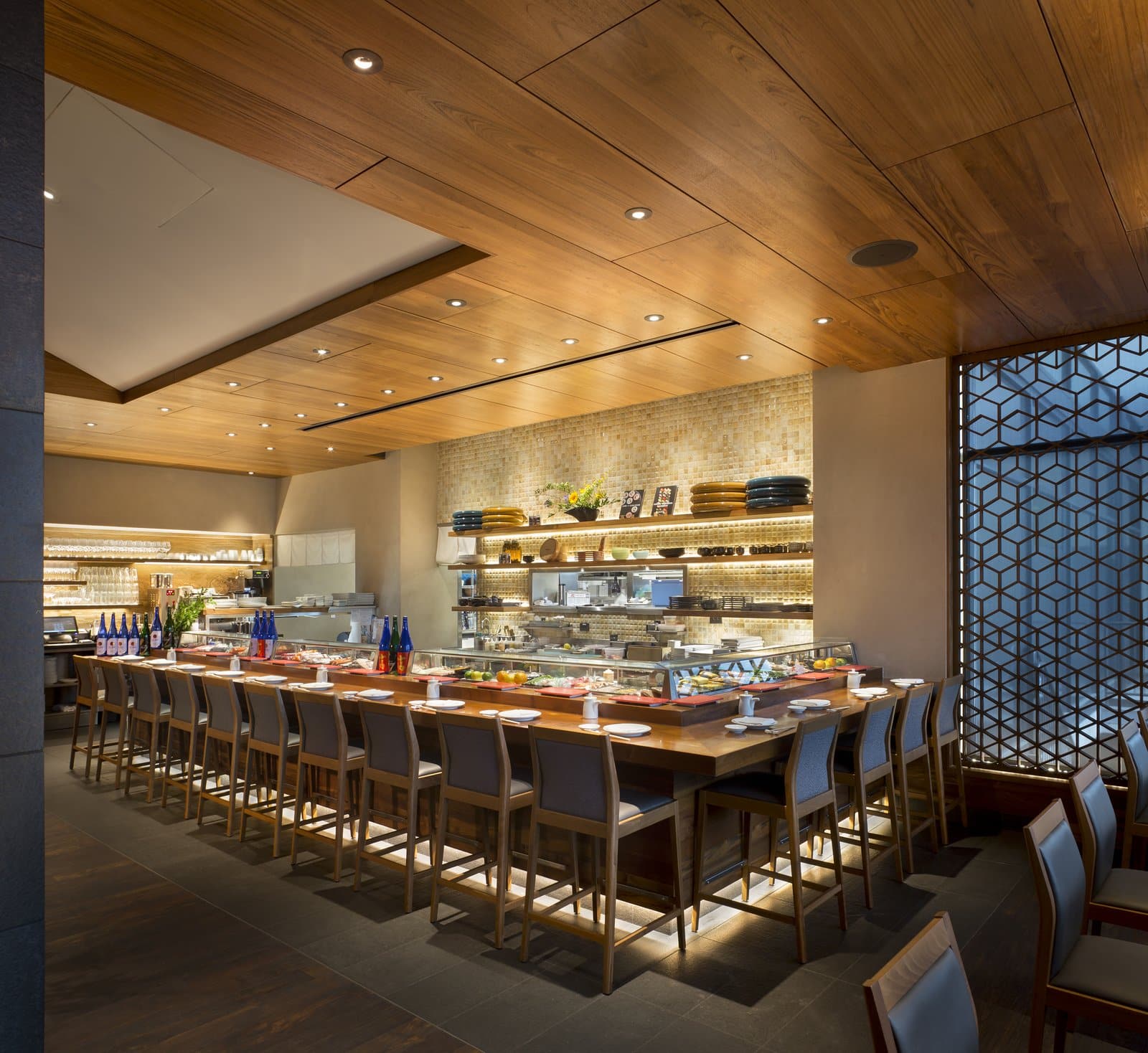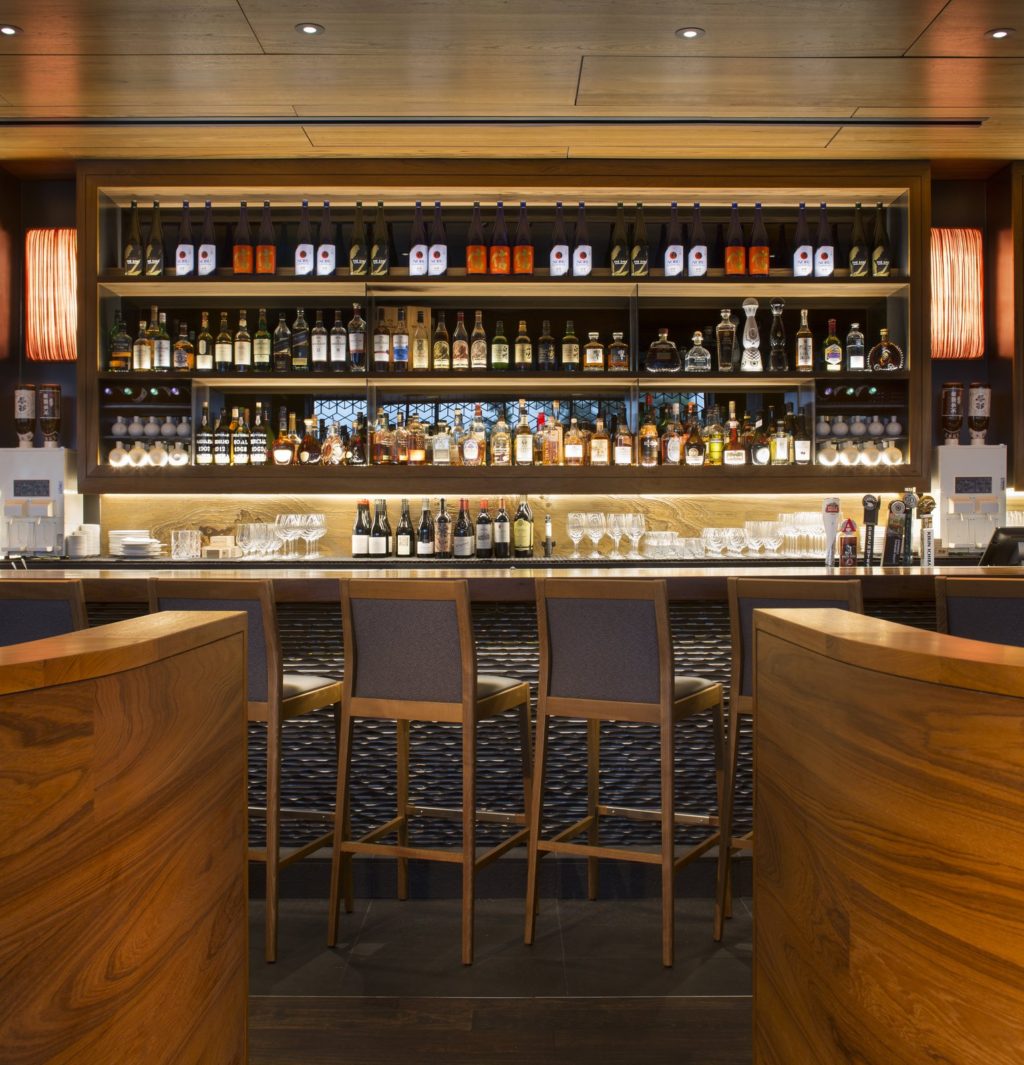 With his signature dishes like Yellowtail Jalapeño and Tai Dry Miso, along with Nobu's own premium sake, guests can experience the ingenuity that changed the perception of sushi and sashimi across the country. The open dining plan, all made from Indoteak Design, featuring 100% reclaimed teak flooring, siding, doors, bar tops, tables and ceilings, allows the sushi bar to be visible from nearly any seating area.
Every detail from lighting and ambiance to the comfort of seating and arrangement of food on a platter is meticulously executed for the best experience possible. There are also three options for private events as well as catering services.