During the redesign of the Waterside District in Norfolk VA, overseen by the talented Design Agency of Jeffrey Beers International, The Blue Moon Tap House needed something unique to add to their impressive 22,550 sq. feet of restaurant and bar space. Indoteak Design was contacted and tasked with creating some custom, 100% reclaimed teak-wood tiles in the signature colors for the Blue Moon Brand.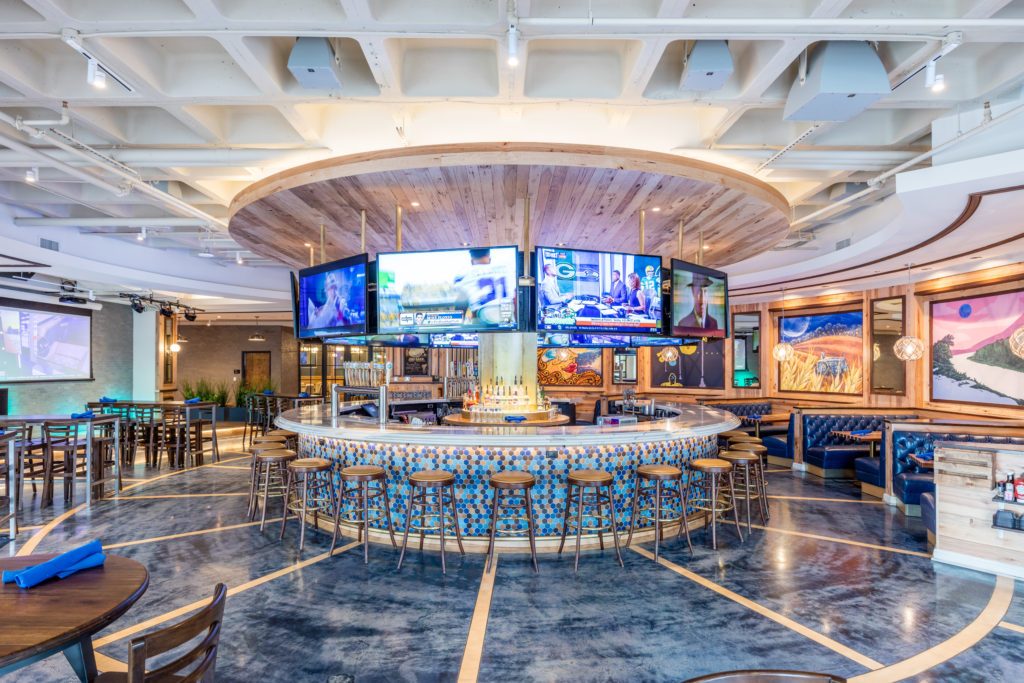 We spoke with the design team and soon our in-house crew were busy crafting a pattern of tile for approval. The reclaimed teak tiles were hand painted with the Blue tones and the natural orange of the teak represented the full pallet of colors for the branding. The result was nothing short of stunning.
About The Blue Moon Tap House:
"Blue Moon TapHouse at Waterside District features three unique dining and entertainment experiences throughout the venue. The tavern area, with comfortable, booth-style seating, features a custom designed circular bar serving a collection of featured beers on tap, a stage for intimate, live music performances and an outdoor patio.
From the tavern room, the venue flows into a dynamic, central area that opens up to a high, vaulted ceiling with a large skylight and a significant, exposed kitchen for one-of-a-kind dining experiences. The dining area of the venue, which opens up to beautiful, waterfront views along the Elizabeth River, features a large exterior patio for outdoor dining and second stage for live music." – WatersideDistrict.com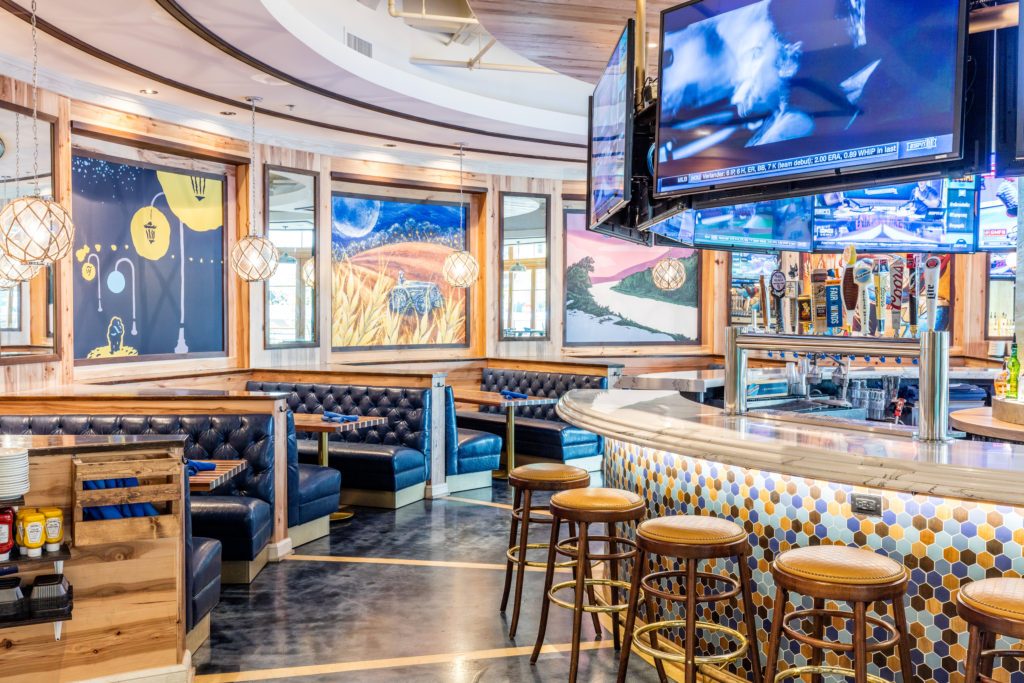 Indoteak Design offers its "AnTeak" Mid-century Modern Teak Tile, the first ever reclaimed teak wood tile and mosaic. Unparalleled in the market, the Mid-century Modern Teak tile is a broad offering of mesh mounted mosaics and patterns that are inspired by a rich range of stylistic genres, from classic European wood flooring shapes to early 20th century geometric motifs and even mid-century Modernism. Beautiful when used alone, or combined with stone, glass or ceramic tiles, our signature "AnTeak" tiles will create spaces of warmth and timeless luxury.
WATERSIDE DISTRICT
333 Waterside Drive
Norfolk, VA 23510
757-426-7433
757-H2O-SIDE
11am – 10pm
Fri – Sat
11am – 11pm