Super-Chef Bobby Flay's New Shark Restaurant In Vegas
Flays new Shark restaurant is a huge part of the The Palms impressive make-over. The Station Casinos' principals Frank and Lorenzo Fertitta, have taken a hands-on approach to the resort's $690 million renovation. Look no further than "Shark" to see what we mean.
The Chef
The legendary super-chef Bobby Flay is opening his first new restaurant in five years and as he says, "My first high-end restaurant in 15 years." Opening on April 1 2019, "Shark" restaurant in the Palms is an all out love letter to all things seafood. "Shark" puts on display Flays commitment to original dishes, flavor and as the name alludes, focuses on seafoods like fresh fish, sushi & ceviche. The theme is based in flavor featuring ingredients from South America, Mexico, and the Mediterranean.
While we all know the food will be the star of the show, the most eye catching feature of the new restaurant is the decor. From an actual dissected shark in the lobby bar at the Palms, when one walks into Flays new restaurant they cant help but be mesmerized by the interior design created by the Rockwell Group.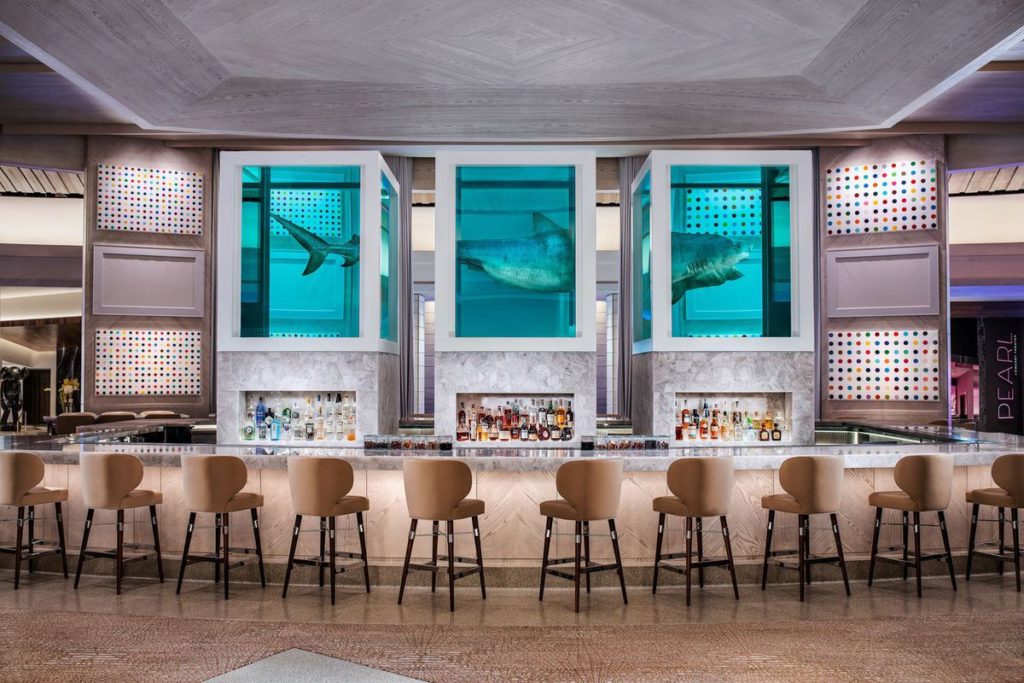 The Design
The concept created by David Rockwell & The Rockwell Group is simple, elegant and colorful. The main dining hall which sits at the entrance to the resort's new nightclub KAOS and features a patio that overlooks the pool club is lined with colorful tiles and intimate coved booths.
Using beautiful 100% reclaimed teak wood tiles on the main dining hall floor, these custom colored wooden tiles capture the attention and imagination. The hypnotic pattern of the natural teak colors paired with star white, black and red finish lead us into the restaurant.
The Name
"When I saw the shark, I knew that was going to the name of the restaurant," says Bobby Flay in reference to the iconic, if not a bit disturbing, art piece by Damien Hirst. The massive shark sculpture called The Unknown (Explored, Explained, Exploded) sits in the lobby and is the inspiration for the restaurants name.
Bobby Flay says of his new endeavor, "There is absolutely no question in my mind that, based on all the resources and all the things that have gone on here for the past year and a half or so, when this thing opens on April 5, everybody in Las Vegas with a pulse is going to want to come here for one reason or the other. I don't think anything like this has really been put together in a really long time in Las Vegas. And for somebody like me, being part of it is really special."
Product Used
To learn more about Indoteak Designs custom reclaimed teak Cinta Tiles- click HERE
Bobby Flay's Shark Restaurant
4321 W. Flamingo Road, Las Vegas, NV
702-942-7777